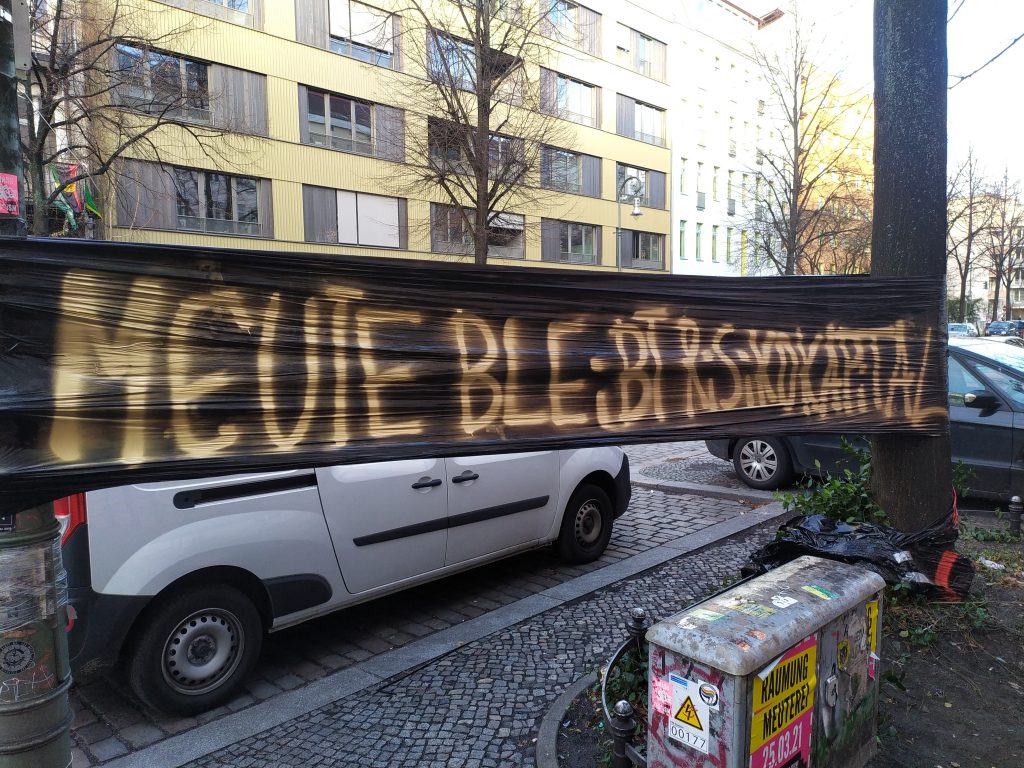 Eviction date of Meuterei
25.03.21
8am
Call for decentralized actions
Since a short time we know that the Reichenberger Straße from Wednesday 15 o'clock in the area around the Meuterei has been declared a restricted zone.You can read more about it here berlin.de/polizei/polizeimeldungen/2021/pressemitteilung.1066313.php .
This was to be expected after the last evictions. We have therefore considered that we do not want to stand around the barriers to shout out our anger. We want that clear that an eviction of the Meuterei has consequences for the whole city. Because it is also clear that public evictions like that of the Meuterei, the Syndikat or the Liebig34 are only exemplary individual cases of a system that is only profit-oriented and that deprives people their homes and living spaces everywhere. Forced evictions take place everywhere and daily. For this reason and because we do not let ourselves be dictated when and where we rebel, we call to become active in all neighborhoods and areas of the city. The way you do it is completely up to you. Each person expresses their emotion in an individual way. Whether demo or flash mob. Whether info table or noise. No matter, there are no limits to your creativity set. The main thing is to make it visible and tangible in the city that it does not only affect the Reiche-Kiez, but all of us, everywhere in the city. From 5-6am there will be an info point Kundgebung near the Meuterei. Other announced actions and points of contact also already exist. You can read about them on
meuterei.tk
leutefuerdiemeute.noblogs.org
aktionsticker.org
We try to update this list as soon as possible. If you make actions, please let us know, so we can add and promote them.But not only on day X also before, every day can be a day of resistance. Spread the the news, watch for announcements, do actions, put out transpis be creative and support our struggle. We stick to it, the Meuterei is not only us and our dearly beloved spaces. The Meuterei is all of us together!
Eviction in our neighborhood? Resistance in the whole city!